Enriched Bread Artists' 27th Annual Open Studio 2019.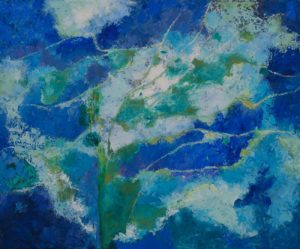 Fluxtime, EBA's 27th Annual Open Studio
Artists open their studios to the public
Vernissage: Friday, Oct. 18, 2019, 6pm – 9pm
Continues:
Saturdays, Oct. 19 & 26, noon – 6pm
Sundays, Oct 20 & 27, noon – 6pm
Enriched Bread Artists
951 Gladstone Ave., Ottawa, ON, K1Y 3E5
Tel: 613-729-7632
www.enrichedbreadartists.com
"Divergence", oil paint on canvas, 20 x 24 inches. Photo credit David Barbour. Juliana McDonald's paintings always begin with an experience in nature. Her newest work is an intuitive response to the wetlands and waterways she has explored over the years. You are invited to contemplate and explore their meanings.