New Paintings for Spring 2021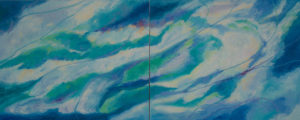 My website has been recently updated with new paintings. Please visit the Water and Sky Gallery on this website to take a look.
For almost a year now our lifestyles have been completely altered with Covid 19 restrictions and uncertainty. At this time, we need to be patient and go with the flow. Accordingly, this featured diptych is named, "Flow" (24 x 60 inches). It creates a meditative space that feels safe. In essence, it is a place where we can drift and dream.
Thanks to Elisabeth McCalden https://mccaldendesigns.com for her website design and technical support.
Also, thanks to David Barbour http://www.davidbarbour.com/ for his on-going documentation of my work.
The best of health to you and your loved ones.
.