Studied Tranquility, Annexe Gallery, OAG, Feb 16, 2022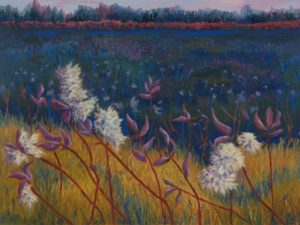 Whether through an abstract glimpse, or a soft study of a familiar landscape, artists in this exhibition capture the range of emotions evoked by the nature that surrounds us. Tranquility and serene depth envelop some scenes, while vibrant hues and tactile surfaces summon lively rhythm in others.
Explore the variety of expressions of landscape, bodies of water, and flora through a selection of work by local artists taking inspiration from their own connection to the natural world.
The exhibition runs from 16 Feb. – 17 Apr. 2022.
Juliana McDonald, "Field of Shadow", oil paint on canvas, 36 x 48 inches. Photo credit, David Barbour.
To see the list of participating artists and more information on the exhibition:
https://oaggao.ca/shop-dine/galerie-annexe/galerie-annexe-exhibitions/.